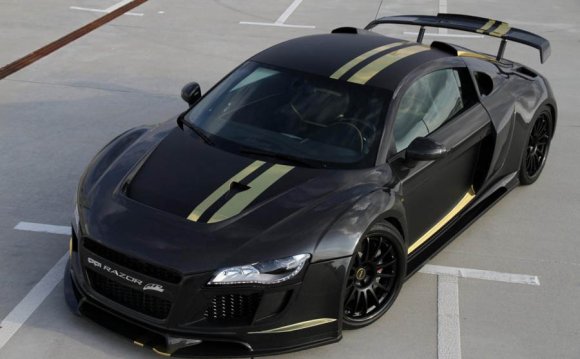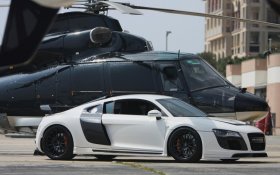 We've sung the Audi R8's praises in the past and even named it "America's Best Handling Car" for 2008. How would one go about improving upon it? German tuner PPI Automotive Design thinks they have the answer, and they call it the PPI Razor GTR.
To build a better R8, PPI went with the tried-and-true tactics of reducing weight and increasing power. Re-skinning the car widebody-style with carbon fiber helped drop a staggering551 lbs off of the R8's frame, dropping it to just around 3, 000 lbs, depending on whose stock curb weight you go by (PPI says 3, 483 lbs stock, but the last one we tested rang in at 3, 654 lbs).
Still, with a supercharger strapped atop its 4.2-liter V-8 engine, the already-quick R8 turns into a monster. With the help of a cold air induction system, a performance exhaust and a tweaked engine computer, the R8 now lays down 580 hp and 443 lb-ft, a big step up from the 420 hp and 317 lb-ft stock. Helping keep the car under control are extensive aerodynamic modifications and a new rear wing, as well as an adjustable coil-over suspension and big brakes. 19-in. wheels up front and 20-in. rollers in the back give the car an even more aggressive stance.
Inside, PPI has stepped up the exclusivity by trimming the interior with black leather with orange accents. Finishing off the look are more carbon fiber trim pieces and accents than you can shake a stick at. Carbon fiber framed seats and the mandatory Razor GTR embroidery complete the look.
The PPI Razor GTR will debut later this year at the Top Marques Monaco. Pricing hasn't been announced, nor has U.S. availability, but we'd suspect both will be out of reach for the casual buyer.
Source: www.motortrend.com
RELATED VIDEO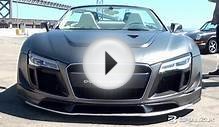 Audi R8 Razor Spyder GTR By PPI Speed Design In Detail ...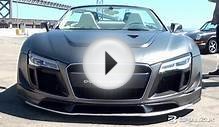 Audi R8 Razor Spyder GTR by PPI Speed Design
Share this Post