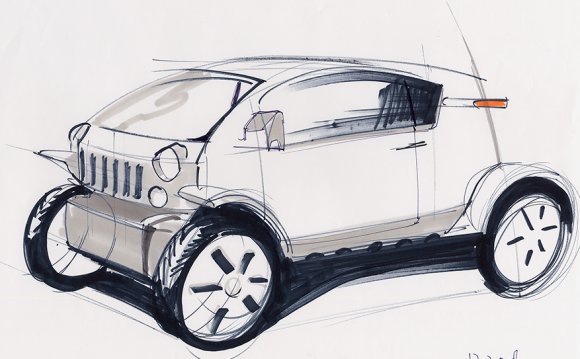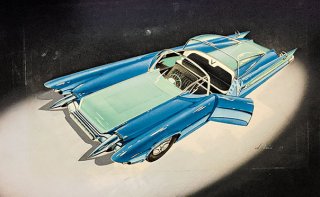 A sketch from the "American Dreaming" exhibit: A Ford concept by Donald Reid from 1955. (From Robert Edwards Collection via The New York Times)
Rodell Smith started drawing cars in grade school in the early 1930s. More than 80 years later, at 92, he's still drawing them on the days he feels up to it. Smith worked nearly 40 years as a professional automotive stylist at Ford and Chrysler. Along with thousands of other mostly unheralded artists and craftsmen, he helped define the look of American progress in an era fueled by 300-horsepower optimism.
Some of the sketches Smith did then, along with work from more than 100 other stylists, will be on display at "American Dreaming: Detroit's Golden Age of Automotive Design 1946-1973, " an exhibition running through May 2 at Lawrence Technological University in Southfield, Mich.
Collectors will pay $150, 000 for a 1957 Chrysler 300 convertible in top condition. An exceptional 1959 Cadillac Eldorado Biarritz can fetch as much as $250, 000. The sketches that inspired these magnificent sculptures command far less money and attention.
That's starting to change — at least the attention part. "Planes, Trains and Automobiles, " an exhibition through May 10 at the Museum of Fine Arts, Boston, which is drawn from the collection of Jean S. and Frederic A. Sharf, features a number of automobile design sketches. At the Christopher W. Mount Gallery in Los Angeles through May 20, visitors can see "When the Future Had Fins: Automotive Design and Concepts, 1959-1973."
"American Dreaming" was organized by Robert Edwards, a Detroit-area collector and documentary filmmaker who had started noticing midcentury design sketches at local garage and estate sales. When he discovered that a number of retired designers lived in his suburb, Royal Oak, his interest grew.
"These were artists who impacted American culture in a huge way, " he says. "But their stories were not being told."
So about a year ago, Edwards starting interviewing them. So far, he has amassed 35 hours of footage, and he and a co-producer, Greg Salustro, are now putting together a documentary, also called "American Dreaming."
In 1950 General Motors had $900 million in net income, a feat that Life magazine described as the "most profitable year of any corporation any time." That postwar period was heady for Detroit: Incomes were rising; people were moving to the suburbs; and the car, Life said, had emerged as the "most important cachet of social/economic position."
It was widely understood that what drove sales was what GM called "eye appeal." Hundreds of artists were working in the automaker's styling section, and every other car manufacturer had styling departments, too.
Because aesthetics were considered the key to sales, these studios were insular realms. Doors were kept locked, and artwork wasn't allowed to leave the building. When a project was finished, or a design was no longer considered useful, the sketches were destroyed.
While the car manufacturers retained some drawings, most of what survives today was smuggled out of the studios by the stylists themselves. Edwards estimates that around 10, 000 sketches still exist from professional stylists working in the golden age.
The sketches reflect an America in which foreign competition was virtually nonexistent, and fuel economy was not yet an issue. Yet it's not as if the stylists were working without constraints. Customers had high expectations for roominess and visibility. Engineering concerns established limits for wheelbases and road clearance. Cost was always an issue.
"Every designer has a story where they fought for a particular aspect of design that they weren't able to get through, " Edwards says. "The bean counters would step in and say, 'This is going to be too expensive.' "
These sketches weren't necessarily supposed to be practical or even technologically feasible; they were meant to stir passionate responses. The goal was to inspire the development of a product so compelling that it would prompt hundreds of thousands of people to say: "This car speaks to me on some deeply personal level. This car embodies some primal part of my soul so fully I will gladly spend half of what I earn a year to own it!"
That was no easy task, yet Detroit's stylists did it again and again. It was a triumph of industry, and of art.
Source: blog.nwautos.com
RELATED VIDEO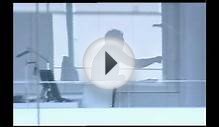 Volkswagen Golf - Interior Design Sketches | AutoMotoTV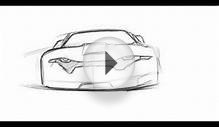 Automotive Design - Younes jmoula Quick sketch.flv
Share this Post