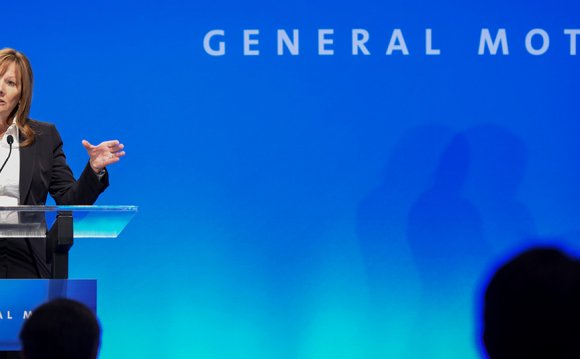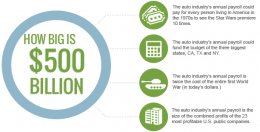 Members of the Alliance of Automobile Manufacturers are familiar. You know the names and recognize the logos, but America's leading automakers are so much more.
By creating jobs, fueling innovation, driving exports, and connecting people, automakers are driving the American economy forward. The members of the Alliance of Automobile Manufacturers are proud to present a new report, compiled by the Center for Automotive Research (CAR), about the strength of our industry as it continues to help lead the U.S. economic recovery. According to report data, automakers are powering our economy by:
Directly employing 1.55 million Americans and impacting a total of 7.25 million U.S. jobs.
Generating $500 billion in annual compensation.
Creating $205 billion in state and federal tax revenue each year.
Investing $46 billion in U.S. factories and facilities between 2010 and 2014.
Creating Jobs
In total, the auto industry is now responsible for 7.25 million private sector jobs, according to the CAR report. Auto manufacturers, suppliers, and dealers themselves employ more than 1.5 million people, and directly contribute to the creation of another 5.7 million jobs.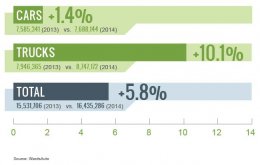 Jobs related to the auto industry go far beyond designing, building, and selling vehicles. Automakers in the U.S. are also among the largest purchasers of aluminum, copper, iron, lead, plastics, rubber, textiles, vinyl, steel, and computer chips.
For that reason, the automotive industry has a strong multiplier effect, the CAR researchers found: Each job for an auto manufacturer in the United States creates nearly 7 other positions in industries across the economy.
Powering Our Economy
CAR researchers found that the millions of auto industry-connected employees collect almost $500 billion in annual compensation, delivering nearly $65 billion in personal tax revenues to government entities. This figure underscores another recent CAR study, which found that the automotive sector generated at least $110 billion in state government tax revenue and another $96 billion in federal government tax revenue, amounting to about $206 billion in taxes. This is more than the GDP of 142 countries across the globe.
Fueling Innovation
Our companies invest heavily in research and development, spending an average of $1, 200 per vehicle on R&D. This R&D investment helps our companies create, embrace, and adapt new technologies. Indeed, your smartest mobile device is your car or truck, with each vehicle equipped with dozens of microprocessors, and millions of lines of computer code.
The R&D investments also help our manufacturers meet the demands of an increasingly diverse and complex market. We have to keep pace with demands from consumers for ever more sophisticated and effective technologies, while also making our vehicles lighter, more fuel efficient, and cleaner.
Driving Sales and Exports
In 2013 alone, exports of cars and parts amounting to over $100 billion were shipped from U.S. ports – double what was exported from America just a decade ago.
And, in 2014, we saw sales of light vehicles in the U.S. increase by 5.8%, the most sales since 2006.
Source: www.autoalliance.org
RELATED VIDEO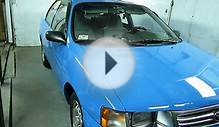 Follow-Up RUST-OLEUM Based Automobile Paint Job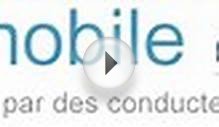 Plaisir : Indian Job... - Blog Automobile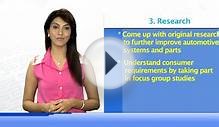 Automobile engineering
Share this Post