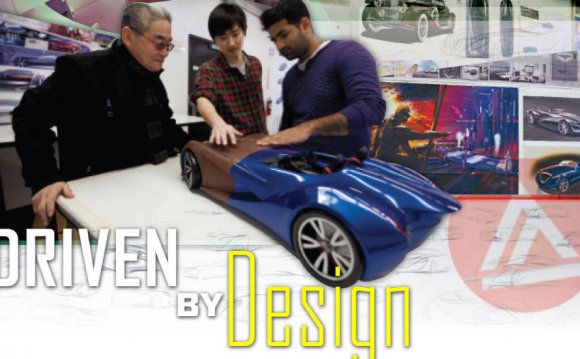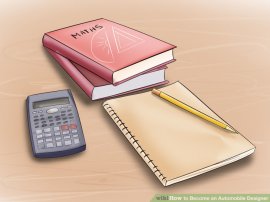 Steps
Start preparing for your car design career in high school. Art and design classes are obvious classes to take to develop your drawing skills, but as an automobile designer, you also need fluency physics and mathematics to craft lightweight cars with low wind resistance. You also need to develop your writing and computer skills with English and computer classes.

Because the automotive design business is becoming an international business, knowledge of 1 or more foreign languages may be beneficial as well.

Decide what area of automotive design interests you most. Automobile designers can work in 1 of 3 areas: exterior design, interior design, or color/trim design.

Exterior designers decide what the outside of the vehicle looks like. Automotive exterior designers sketch designs, convert them into digital format, and then sculpt their designs into clay.
Interior designers focus on making the vehicle interior comfortable for the driver and passengers and placing the controls and creature comforts in the places most accessible to the vehicle occupants without affecting safety. Interior designers also sketch their designs on paper and computer and then sculpt them in clay.
Color/trim designers decide what materials (metal, wood grain, leather, fabric, carpeting) are to be used on the inside and outside of the vehicle to make it most visually appealing and comfortable. Color/trim designers are primarily researchers; they don't build models, although they may construct computer simulations of their design ideas.

Build a design portfolio. Because automotive design schools are so competitive, you'll need to have a portfolio of design concepts to show your potential. This portfolio can be either in hard copy or in digital format, depending on the requirements of the school you plan to attend.

If your high school lacks the classes and resources to help you build your design portfolio, you may want to consider an associate's industrial design degree from a community college to build a suitable portfolio.

Choose the right college program for you. You have several options to pursue college training to become an automobile designer:

You can go for a bachelor's degree in industrial design, and then either obtain a graduate degree in transportation engineering/automotive design or land an entry-level position in industrial design and use that experience to springboard to an automobile designer position. There are several hundred college-level industrial design programs around the world.
You can go for a bachelor's degree as an automotive engineer and try to use your experience to become an automobile designer. This can be a harder path, as most car companies have about 20 automotive engineers for every designer, and most automotive engineers are more logical than creative, making the change in mindset difficult.
You can attend an automotive design school with an undergraduate program. There are about 20 such worldwide. You can follow earning your bachelor's degree with going for your master's.
You can get your bachelor's degree in graphic design, furniture design, architectural design, or interior design and then go for a master's in automobile design. This path would be appropriate if you're making a career change from one design field to another.
Regardless of which path you choose, look for a school that offers computer-aided drafting (CAD) courses and has connections to the automotive design departments of 1 or more automakers. You can also look for a school as close to where you presently live as possible, although this may not be a practical requirement if you wish to attend an undergraduate automotive design program.
Give us 3 minutes of knowledge!
Can you tell us about
Growing Herbs and Spices?
Mathematics?
Sewing skirts?
Young adult fashion?
Tips
You can expect to spend 3 to 4 years pursuing an undergraduate degree in either industrial design or automotive design. A master's degree program may run another 2 to 4 years.
You may want to consider going for your master's degree in automotive design to get a better starting position or salary or to give yourself an advantage in a tight job market.
Source: www.wikihow.com
RELATED VIDEO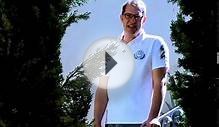 Volvo C30 Design | Review | car dealerships | automobile ...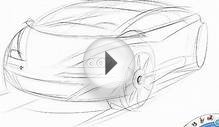 Design Automobile Car Sketch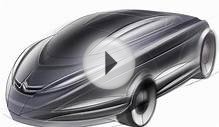 Car Design - Design Automobile
Share this Post